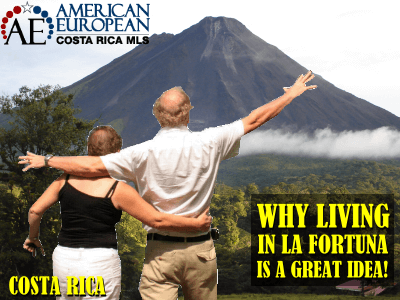 You have arrived here because you want to discover La Fortuna as a place to live. If you're looking for a property so you can live in La Fortuna, we invite you to search on our #1 MLS by using our Quick Search.
If you don't know where La Fortuna is located, use Google Maps for an exact location.
Arenal is Costa Rica's most spectacular volcano and it drives most of the tourists to La Fortuna. Since the beginning of 2016, La Fortuna has climbed to the #1 tourist destination in Costa Rica. It is called the "Adventure Capital of Costa Rica" for good reason.
There are so many things to do around La Fortuna that the list goes on & on… here are just a few: White Water River Rafting, Kayaking (lake or rivers), Waterfall Rappelling, Nature Hikes, Chocolate Tours, Waterfalls, Hot Springs, Spas, Restaurants & much more.
A rural town
La Fortuna is a very nice rural town. It has, because of the tourism trade many perks without being "too city".
The selection of restaurants and supermarkets are better than you'll find in any other rural town in the area. You'll still find the town fairly small. And when you're driving around there is plenty of green space with grazing cows and horses on the main road.
The town itself is quite "sleepy" and by 8-10 pm everything is closed. But on the weekends, you can find some live music, have a picnic in the park or a candlelit dinner at a fine restaurant. It has everything you want, and nothing you don't!
Very Tico
The rural nature also gives it a very Costa Rican vibe with a politeness & properness not found in many of the coastal environments I've visited. Although there is a small ex-pat population here, it's still a very Costa Rican town. We definitely like it that way!
The infrastructure is very rural with dirt roads & wide open spaces. That also means that you don't necessarily have a gas station 1 minute from your property. You may need to drive a bit to get to a grocery store, depending on what you're looking for.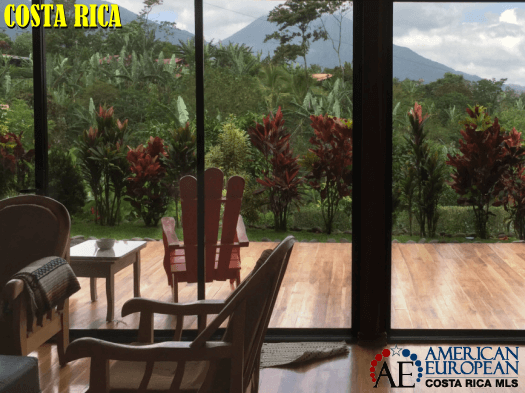 Farms for sale
To get the most for your money, you need to go about 15+ minutes outside of La Fortuna to get larger parcels of land and get away from the hustle & bustle of the town. There are great options for land for sale in Chachagua, La Tigra, San Isidro de Peñas Blancas, and surrounding areas. They are all a short drive from La Fortuna center.
Be open minded! Because living here is a slower pace of life. You won't be driving that dirt road every day…maybe once a week!
Where is La Fortuna?
La Fortuna is located by the Arenal Volcano in the San Carlos district of the province of Alajuela. You can reach La Fortuna by driving 2.5 hours from the San Jose Airport. La Fortuna is one of the most popular places in the country and you can travel there by car or bus in 2 ½ hours or hop on a domestic flight (Sansa & Nature Air).
The weather
La Fortuna weather is rain & sun all year long. We don't really have a "wet" & "dry" season like many other areas do. Living with the volcano close by seems to create its own little micro-climate. In town, because it's in a valley and more built up, many people do have air conditioning. But get 15 minutes outside of town and the daily breezes & open areas makes it unnecessary.
Think of it like Maui or any of the Hawaiian Islands. It is gorgeous and green here all year long because it rains almost every day. Does it rain all day? Sometimes, but many times it is nice in the mornings and rains in the afternoons. No guarantees except that you'll have fertile soil and perfect conditions for living off the land! We offer more information about the weather in Costa Rica on our website.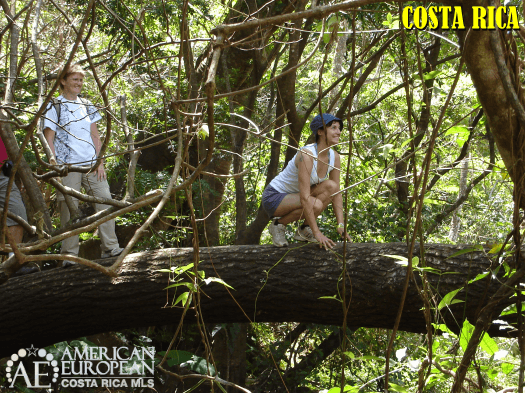 Worshipping
See what your worshipping options there are in La Fortuna here.
Health Services
Have a look here at what health services you'll find in La Fortuna, and veterinarian services for your pets and cattle.
Did we give you enough reasons to start to discover La Fortuna? Are you ready for your search for the property of your dreams? Then contact us now.