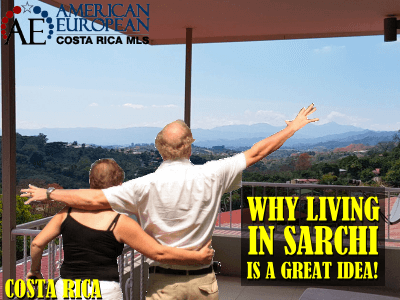 You have arrived here because you want to discover Sarchi as a place to live. If you're looking for a property so you can live in Sarchi, we invite you to refine your search options using MLS Search Engine.
If you want to live in a quiet town, close to the city, and like to mingle with the locals, you have come to the right place: Sarchi.
If you don't know where Sarchi is located, use Google maps now for an exact location.
The small town of Sarchi is full of small Tico-style homes on acreage, often coffee farms. Some have great views. The excellent volcanic soil makes this the perfect area for coffee, fruit trees, and immaculate gardens. Middle-class Tico families and retirees make up the demographics of Sarchí.
With all of the artists in town, it is no surprise that Sarchí is one of the only tourist towns in this area and has lots of tourist traffic during the dry season months.
Where is Sarchi
Sarchí is located about 15 minutes off the Pan American and 35 from the International Airport. It is the gateway to Los Bajos de Toro, a great recreation area which opens up to the great Northern Plains, and San Carlos.
Accessible from the highway either by the Grecia exit or the Naranjo exit, Sarchí is soon to boast its own exit from the Pan American highway. This will make it more convenient to visit San Jose, the beaches, and the airport.
An artist community
Sarchi property is beautiful and amongst the best of Costa Rica real estate. Sarchí is truly the heart of the artist community of Costa Rica. Grecia is nestled in the mountains, midway between Grecia and Naranjo.
It is officially known as Sarchí Valverde Vega and is home to the woodworkers of the country. Nearly all the souvenirs in Costa Rica originate here. You can still see the artisans working on the famous Oxcart wheel. Or go to the Alfaro's workshop or Joaquin Chaverri and see how it was done before electricity; with water wheels!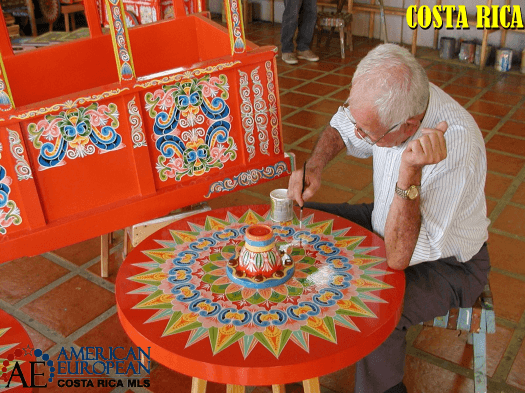 Along with artisan products, "Sarchiseños" also are farmers as is indicative of this fertile area. Coffee is the product of choice, but many are starting tomato and sweet red pepper farms offering more variety to the agriculture.

Retire in Sarchi
If you are thinking that retiring in a small quiet tourist town in the mountains of Costa Rica, Sarchí is for you. There is a minimal foreign population and that helps keep prices down. Also, the climate of 65 to 75 degrees every day and with altitudes ranging from 3000 ft to 5000 ft, there is a climate and view for everyone!
With three grocery stores and you'll find a couple of pharmacies but for serious shopping, Sarchiseños usually go to Grecia or Naranjo.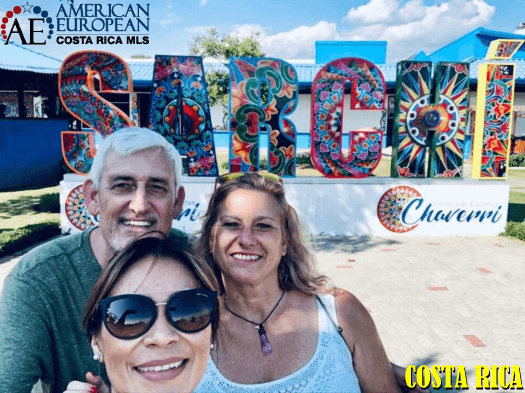 For healthcare services, there is an Ebais in Sarchi Sur but for more serious attention, you'll have to go to Grecia. There are a few dentists and veterinarians for your pet care though.

Worshipping
See which Sarchi churches are available here
For religious services in English in Costa Rica, go here.
Did we give you enough reasons to start to discover Sarchi? Are you ready for your search for the property of your dreams? Then contact us now.