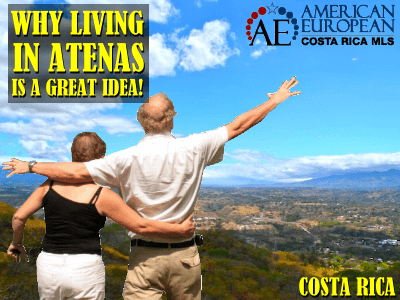 You have arrived here because you want to discover Atenas as a place to live. If you're looking for a property so you can live in Atenas, we invite you to search Atenas properties in our #1 MLS by refining your search options.
Atenas is easily accessible from the beach areas, the International Airport, and from any other city in the Central Valley. The town of Atenas is known for the best climate in the world.
If you don't know where Atenas is located, use Google Maps for an exact location.
That's only one of the reasons Atenas property for sale maintains value well. Highway 27 allows driving time to the city and beaches cut in half. This turns Atenas into an attractive location to retire and live. Can Atenas be attractive to you and your family? Then learn why you should choose Atenas to buy your home in Costa Rica now.
Rolling, green mountains, and spectacular views surround Atenas! It is still a town where everyone waves and greets each other in a warm welcoming manner! If you're interested in nature, outdoor living, and tranquility then this is the location for you. As Costa Ricans say, "Pura Vida" or the pure life is found in Atenas! That's one of the reasons why so many retired expats living in Atenas.
Location
Atenas is only
20 km. (12 miles) from the International Airport
35 km. (21 miles) from San Jose
50 km. (30 miles) from the beautiful Central Pacific beaches.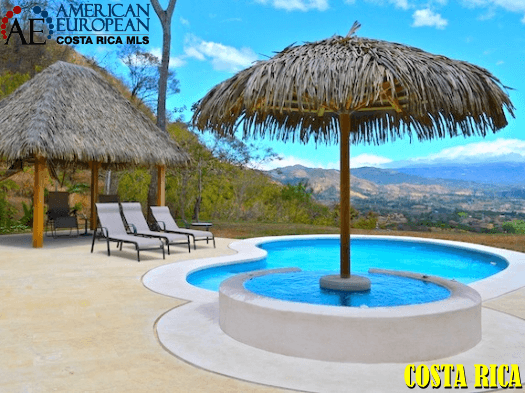 Therefore, you have the best of both worlds. You will be far away from the congestion of San Jose. Yet you are close enough that you can enjoy shopping malls, restaurants, nightclubs, and movie theaters in Grecia, Alajuela, or Escazú.

About Atenas
The population of Atenas is approximately 5,000 inhabitants in the center and 17,000 in the outlying suburban areas. It has an altitude of 800 – 1100 meters or about 2,600 to 3,600 ft.
Atenas is still primarily an agricultural region known for its coffee, sugar production, and fruit orchards. Every Friday, the park bustles with the farmer's market or feria. Here, fresh produce, meat, and even flowers can be purchased for a minimal price! It has a festive atmosphere where both the locals and foreigners gather and socialize! It truly is an amazing, fun experience!
The picturesque Central Park located across the street from the Church is another meeting point. In its tropical setting, it is a perfect spot to enjoy ice cream or coffee. Here, you often see birds such as the toucan or green parrots flying overhead. There are several restaurants in Atenas serving Costa Rican food, German, Italian and Chinese meals as well!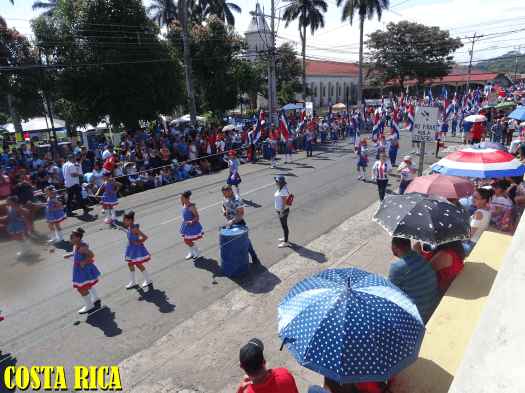 And, once you live in Atenas, do not miss the Heritage Festival in Atenas.

Best Climate
There is a reason Atenas is called the best climate: The daily average temperatures are from 77 to 86 degrees F or 25C to 30 degrees C. The evenings cool down from 62 to 70 degrees F or 17 to 21 degrees C. This makes the ideal year-round weather conditions.
Atenas Amenities
As Atenas continues to expand, you will see an increase in its amenities as well. Currently, this quaint village has no shopping malls. If you're looking for serious shopping, you must drive to Escazu or Alajuela. But Atenas has its own supermarkets, a central market, and a farmer's market.
There are very good schools in Atenas and if you're looking to learn Spanish, try Spanish school for residents and expats.
You should not worry about health services although for a larger public hospital Alajuela is the closest and Santa Ana and Escazu for a private hospital.
If you love golf, you can either go to Los Reyes or to Cariari.
Worshipping
Atenas offers very good options for worshipping.
Did we give you enough reasons to start to discover Atenas? Are you ready for your search for the property of your dreams? Then contact us now.