Care to join our network? Interested in an American European Real estate Group's membership? Read the information below and contact us.
The American-European Real Estate Group is a group of real estate brokers, all selling and renting Costa Rica real estate, that started working together back in the 90´s when there was no Costa Rica MLS. In those times, most real estate agents in Costa Rica used to work everywhere in the country.
Then, the traffic started making this very difficult to do. So the three founding members, Kjersten van Horn, Barry Ashworth and Ivo Henfling, started a mini MLS. Ideally, it was going to be a Multiple Listing Service with properties for sale in Costa Rica listed by different real estate agents. That was at the time a real innovation.
MLS Network
We first bought a database system that would show Costa Rica properties for sale uploaded by each member. Then, we could export property listings between the members and the very first Costa Rica Multiple Listing Service was born. That was even before the internet, which now feels like the stone ages. Since then, the American-European Real Estate Group has been able to grow. We have been able to attract the leading real estate offices in Costa Rica and get them to join our network. As a result, we offer an amazingly wide range of real estate in Costa Rica.
The world crisis has hit so many countries and the real estate business has changed forever. Our affiliate members have not only survived the bad market, they have become even stronger. Hence their shared knowledge of the real estate market.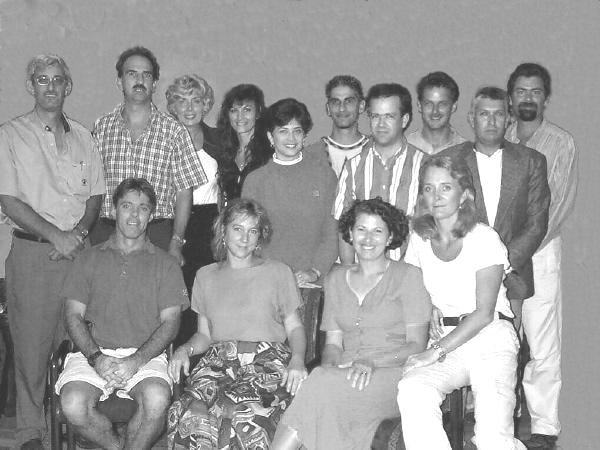 The American European real estate group in 1996
Over 1,500 Costa Rica properties for sale
Today, the American European Real Estate Group has many members, from coast to coast and each independent office is allowed only to list property in his own area. Quite often we get a request from real estate brokers to join our network. We do not have many locations uncovered though and the next step might be to add other agents in the same areas.
Our Multiple Listing Service offers over 2,000 up to date properties like long-term and vacation rentals, different properties like luxury properties, luxury beach properties, luxury homes, golf homes. You will also find a variety of information about real estate in Costa Rica in general.
Join our network
The American European Real estate Group only allows one affiliate partner for each area. This way, the real estate listings will be on our system only once. The affiliate has to live and work in the same area. For those who join our network, it is not allowed to live in one area and work another.
Most agents in Costa Rica list properties all over the country. That would be the total opposite of the functioning of AE MLS. The American European Real estate Group is always actively seeking affiliate partners in areas not covered by our current partners.

Are you a responsible real estate agent and an expert in an area not covered by a current affiliate? Have you lots of property listings with a clear title?We would love to have you join our network.
Read the information below to find out more details on the benefits of joining forces with our group and what we are looking for.
Who are we looking for?
We don't accept just anyone into the group. We want to work with an established, reputable real estate agent to join our network. It's important to us that the agent will be a good fit for our group.
Our new affiliate partners should have:
Experience in real estate in Costa Rica
You have been living in Costa Rica for a while and helped other adjust to the country
A real estate office, a cell phone, a car and other basics required to do business as a Costa Rica real estate agent
A real concern for your client's welfare and a record of taking care of them before, during and after the sale.* A solid reputation in the real estate field and your local community
Speak English and Spanish
Be a legal resident of Costa Rica
Live in the same area that you list properties in
You can only become a member of an area that is not covered by an active member
Referral Policy
The American-European brokers and agents frequently work with other established brokers. Are you a full-time real estate agent? Are you well established and reputable? Then we would be happy to show your properties to our clients or vice versa.
Our rule is that if you are acting as a buyer's broker and want 50% of the commission, you must join our agent in the showings and vice versa.
If you live in another country or area, we are happy to attend to your client and offer you the standard 25% referral fee.
No taxi-drivers or waiters allowed
In Costa Rica, there is no licensing law. There are two real estate boards but being a member is not an obligation by law. This means that many taxi drivers, waiters, surfers, secretaries and others work as real estate agents in Costa Rica. This is a person who expects to earn half of the commission without holding themselves to the same standards, practices, and concern for the client's welfare that a legitimate real estate agent does.
If you are one of these people we don't work with you!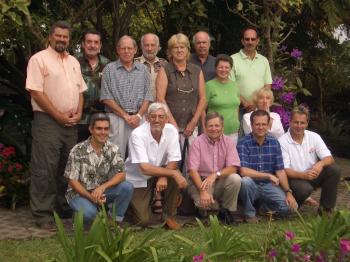 The American European real estate group in 2005
Member Advantages
Our group is always on the lookout for affiliate members in areas we don't yet cover. There are many benefits that an already established realtor can gain by joining our group:
No monthly fees!
You only pay a commission after you closed the sale or the rental
No advertising cost at all
The cheapest and most professional lead generation in Costa Rica
A fantastic market presence
Organization of your listings
Partners you can trust
More sales opportunities through referrals
An online inventory system you can update right away
The only Costa Rica MLS that also informs about moving to Costa Rica, living in Costa Rica and other related articles every week.
Access to a huge database of Costa Rica property for sale and commercial property for rent so you don't need to search for property for hours.
This combination of reduced costs and increased sales is the main reason why you should join the network. We have been very successful since 1998. If this sounds interesting and you'd like to join our network, contact us for more details immediately.
Our real estate blog
Once you have joined us, we will invite you to write your stories. You can write about living in Costa Rica and your experiences when moving to Costa Rica. We love to have your sightseeing trips to all these special places in Costa Rica and anything else you can tell us that is related to Costa Rica. And of course about the properties in Costa Rica that we have in inventory.